(Minghui.org) The Nine-day Falun Dafa seminar concluded on March 24 at Tianti Books in Manhattan. I was one of the students. It was the second time my husband and I attended the seminar since we enjoyed it so much the first time.
My husband has become younger and wiser since the previous seminar. I am happy for him.
The group was so solid and punctual during the nine days. They showed great interest in learning the discipline and held their enthusiasm until the very last minute.
Susan from Canada traveled to New York with the sole purpose of attending this seminar. Susan stayed at a hotel for her trip. She was so grateful for this opportunity!
We watched the nine-day video lectures given by Master Li Hongzhi, the founder of Falun Dafa, and learned the five sets of Falun Dafa exercises.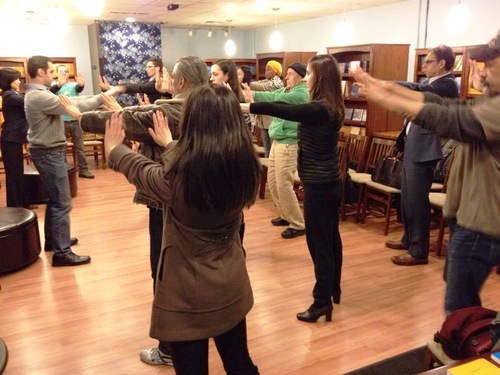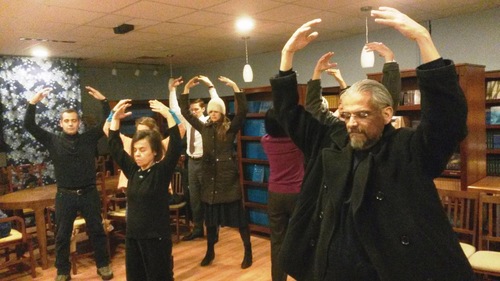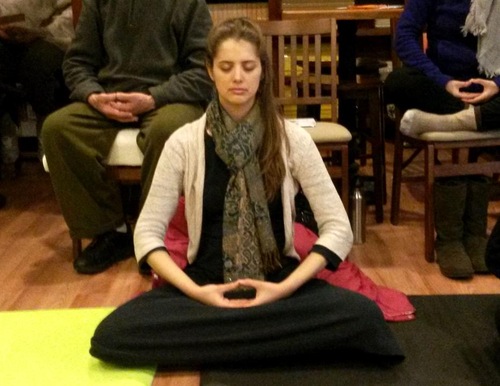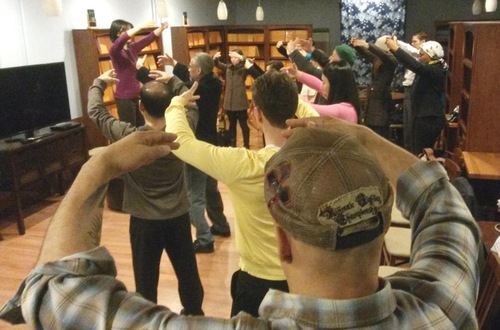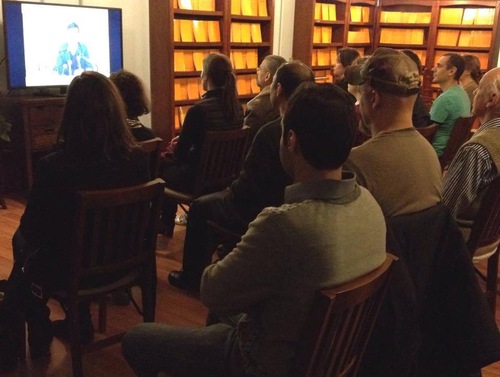 Learning Falun Dafa exercises and watching the video lectures at the nine-day seminar at Tianti Books, March 16-24, 2015
This was also the second time for David and Kevin. They cherished this second opportunity as a way to improve their exercise movements and to deepen their knowledge of the profound Falun Dafa teachings.
David mentioned that he felt that Master Li was right there with the group because of the energy field during the seminar. "His tone of voice is very soothing," he added. He also confessed he was a very moody person. But during these nine days, he was able to control his temper and felt calm and relaxed.
Asher, a brand new student, decided to attend the class on his way to his acupuncture appointment. After listening to a brief introduction and sharing by a Tianti staff member, he thought that he had better stay at Tianti so as not to miss the opportunity to find out something that might be better than acupuncture.
He took a front seat and wouldn't leave the bookstore for his appointment. He explained that he was afraid that he might not be able to make his way back on time if he left the store for something else. He thus waited about two hours for the lecture to start.
Asher shared at the end the improvements he experienced during the seminar. He said that he didn't used to be able to bear losing an argument when talking to people, but after he listened to Master's teachings somehow he lost interest in this, and now he didn't care if the other person had the last word. He just doesn't want to talk back anymore.
Holly, who has been practicing for some years and attended the seminar as a refresher, told the group that she had practiced other disciplines, but she never reached such a peaceful state of mind like the one she is able to reach with Falun Dafa.
Susan said she started practicing Falun Dafa about a year ago. She said she used to suffer many ailments. She had pain in her shoulder when this seminar started, which she understood to be a part of her process of eliminating karma.
After three days, she noticed that the pain had disappeared. She also had difficulties doing the exercise daily by herself, "as if something was preventing me from practicing every day," she said. However, before the end of the nine-day seminar, she happily announced that she had resumed doing the Falun Dafa exercises daily.