(Minghui.org) The November Falun Dafa nine-day seminar at the Tianti Bookstore concluded on November 11, 2014. Some of the participants said that they planned to join the group Fa study sessions starting on Wednesday. Some decided to join the next seminar in January 2015.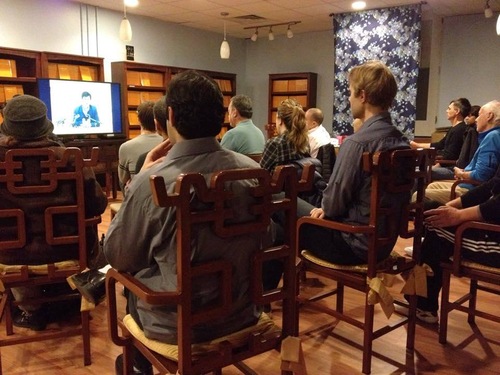 Students at the Falun Dafa nine-day seminar watched Master Li Hongzhi's video lecture at the Tianti Bookstore in Manhattan
Students learn the five sets of Falun Dafa exercises
The Tianti Bookstore has been holding bimonthly Falun Dafa nine-day seminars since it opened in Manhattan last October. The seminars offer the free video teachings of Master Li Hongzhi and five sets of Falun Dafa exercises. The one which concluded on November 11 was the last session for 2014.
Many students didn't want to leave the bookstore after the session ended at 9:15 p.m. It took some of them over an hour to get home. The bookstore manager had to ask some of the students, "Are you going to go home now? Or should we start playing the video for the next day's seminar?" The students then proceeded down the stairs to the street level and left.
Some students didn't socialize with others, but simply sat quietly in chairs. Upon inquiry, they said that they simply felt very comfortable in the bookstore. They just wanted to stay a little bit longer.
Students were very engaged while watching the video lectures of Master Li. Even though each lecture was over one and a half hours in length, some students talked as if they hadn't had enough.
At the end of the ninth day, David Middaugh thanked the bookstore staff members. He also thanked the fellow students for a good time together and a productive seminar.
Eliseo Dardon echoed his comments, "Well said. Such a perfect Master! It's so rare. I have already planned to join the next seminar with a friend of mine."
Eliseo said that he had learned about Falun Dafa ten years ago. But he didn't take up the practice. He just gave a copy of Zhuan Falun to a friend. He felt that now it was his turn. He bought the book for himself, along with a Falun Dafa exercise music CD.
Tianti Bookstore website: http://tiantibooks.orgAddress: 220 West 30th Street, New York, NY 10001Toll-free (North America): 1-888-842-6845Phone number for international calls: +1-201-897-8788